The Bryan Dental Group
Bryan Medical Center
442 W. High St.
Bryan Ohio 43506
419-636-3163
Toll Free: 866-729-2434
Click here to email us
Office Hours
Monday – Friday 8 a.m. to 5 p.m.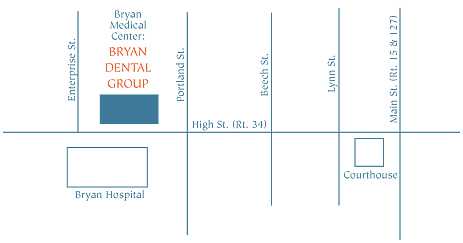 For dental emergencies after normal office hours, our patients may call their dentist at home, or, if unavailable, one of the other dentists in the group. If unable to reach any of them, patients should visit the hospital emergency room.
Appointments
To schedule an appointment, patients may call 419.636.3163 or toll free 866.729.2434 during regular office hours.
The office asks for a 24-hour notice if the cancellation of an appointment is necessary. Otherwise the patient is responsible for a failed appointment fee. The office has an answering service for cancellation of appointments after hours.
Patients may elect to be reminded of their appointments through text messages and/or email.
We invite patients to inform us of ways we can serve them better.